Games Portfolio

My Arms Are Longer Now
Web GL Demo
<- PLAY HERE
Github Repo
My Arms Are Longer Now is a comedic 2D stealth/narrative game for MAC and PC. You play a long-armed criminal mastermind. With your disgusting long arms, you'll avoid security systems, decipher blueprints, put a sock on your hand and flirt with a lonely security guard - whatever it takes to pull off the perfect heist!
My Arms Are Longer Now
was made in 48 hours for the 2021 Global Game Jam (
January 29-31
).
Working alongside
Millie Holten
(artist and co-designer), Matthew was the programer, and designer for this sickly little game.
Toot Games
is currently in the process of seeking funding for further development of this gross and silly game.
Yeah Yeah Yeah Sure!!
Web GL Demo
<- PLAY HERE
A game of accomplishing wild physical feats while attempting the riskiest challenge of all - successfully navigating an actual phone conversation.
This game was made in 48 hours for GMTK Jam 2022!
Art, Writing, Design by Elyce Phillips.
Programming, Technical Art, Design by Matthew Jackson.
Use the Space Bar to leap over any incoming hazards (
like sharks
).
Use your mouse to click your response on the right before the timer runs out... and the person on the other end moves on with the conversation...
You will be graded on your social etiquette by the end of the conversation :)
---
---
Bottled!
Windows Build <- Download Here
Bottled!
Is a 3D puzzle platformer full of mischief and magic. Explore the home of a forgetful old witch as you control Noodles, a little potion bottle who has been brought to life.
The animation magic was taxing, however, and the Witch has fallen ill. Collect ingredients to brew potions, and gain new abilities and unlock new areas. Can you become a healing potion in time to save the Witch?
(Ending is currently bugged, to be updated at a later date)
That's Dale!

Web GL Demo
<- PLAY HERE
Play as my friend Dale, as he juggles the work-life-balance of being an animator and dedicated boyfriend. Hayley Tantau voices the role of Hayley Tantau, Dale's partner.
This game was made specifically for Dale (for his birthday) over the course of a week in September 2021. Art & Sound was done by Millie Holten.
The dot cloud algorithm used to train/recognise the desired drawings uses the $P algorythm laid out
here.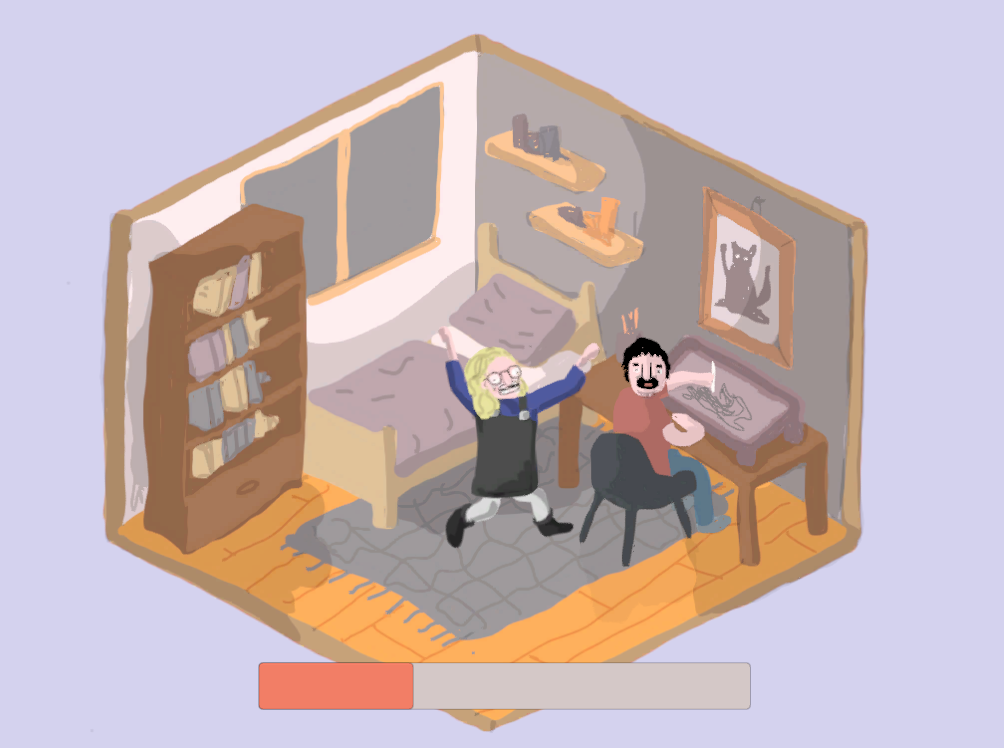 ---
Splitsville
Web GL Demo
<- PLAY HERE (you need 2 people to play)
Play as a blob that has lead a myriad life of proffesions and adventures, and still feels unfulfilled. And also play as that blobs tricksy shadow that is trying to run and hide from this hapless blob.

This online 2-player game of blob/shadow hide and seek was made in 48 hours for Global Game Jam 2022. Play with a friend or (for the lonely or curious) by yourself in two browser windows...

Art by Dale Anderson, Music by Broni Lisle, and Writing by Vidya Rajan!
---
---